At the bottom of this blog entry, you will find the sample norms for the Physical Fitness Test given to applicants with the Kentucky State Police. I share this information for multiple reasons. Measurement is an extremely important aspect of fitness. I have previously written about CrossFit's fitness models. The fourth model will be detailed in this blog, as it has a direct implication on the importance of measurement.
The following excerpt is taken directly from the CrossFit Level 1 Training Guide:
CrossFit's Fourth Fitness Model: Sickness-Wellness-Fitness Continuum
There is another aspect to CrossFit's fitness that is of great interest and immense value to us. We have observed that nearly every measurable value of health can be placed on a continuum that ranges from sickness to wellness to fitness (below).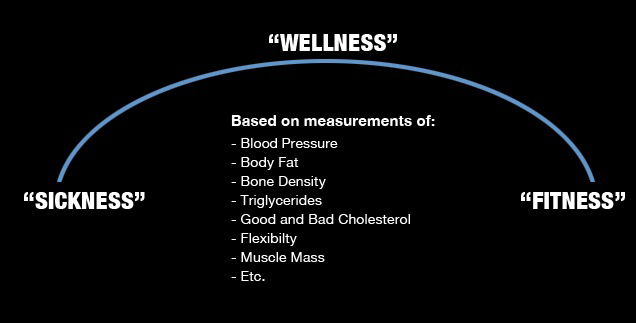 Sickness-Wellness-Fitness Model
Though tougher to measure, we would even add mental health to this observation. Depression is clearly mitigated by proper diet and exercise. For example, a blood pressure of 160/95 is pathological (sickness), 120/70 is normal or healthy (wellness), and 105/55 is consistent with an athlete's blood pressure (fitness); a body fat of 40 percent is pathological, 20 percent is normal or healthy, and 10 percent is fit. We observe a similar ordering for bone density, triglycerides, muscle mass, flexibility, high-density lipoprotein (HDL) or "good cholesterol," resting heart rate, and dozens of other common measures of health. Many authorities make a clear distinction between health and fitness. Frequently they cite studies that suggest that the fit may not be health protected. A close look at the supporting evidence invariably reveals the studied group is endurance athletes and, we suspect, endurance athletes on a dangerous fad diet (high carbohydrate, low fat, low protein).
Done right, fitness provides a great margin of protection against the ravages of time and disease. Where you find otherwise, examine the fitness protocol, especially diet. Fitness is and should be "super-wellness." Sickness, wellness, and fitness are measures of the same entity. A fitness regimen that does not support health is not CrossFit.
The Cliff's Notes
If you imagine a spectrum in which the far left is "Sickness," the middle is "Wellness," and the far right is "Fitness," you have to be able to see that you can't go from the far right to the far left without reaching the middle first. Your health can be seen in the same model. If you have extremely low body fat percentage ("Fitness"), you will have to reach the "average" (or "Wellness") point before you become obese ("Sickness"). So the basic principle behind this model is that once you reach the point of "Fitness," you have a hedge of protection between you and "Sickness."
Measuring progress keeps you informed as to where you are. Goals have to be measurable, so you know how far away they are before they can be reached. If you fail to document progress, you really don't ever know if you are improving. Measurements don't always include a scale. It is important to know how much you weigh, but progress is not always about what the scale says. You also need to pay attention to your overall health, body fat percentage, muscle mass percentage, bone density, and lab tests that give you a closer look at what is going on internally. I will close with this, though: Don't ever discount how you feel and how you perform. Lab results can often cause great concern. I always recommend listening to medical professionals, but as you make progress toward feeling healthier, chances are you are doing something right.
Go set some goals and crush them!
LAW ENFORCEMENT SAMPLE NORMS
Category

Percentile

Bench

Press

Sit-Up

300 Meter

Push-Up

1.5 Mile Run

SUPERIOR






















99

1.72

62

42

72

9:52




95

1.40

50

48

60

10:34

EXCELLENT




90

1.30

47

50

51

11:20




85

1.18

45

52

50

11:55




80

1.11

43

53

44

12:30

GOOD




75

1.04

42

54

41

12:56




70

1.00

40

56

40

13:11




65

.95

39

57

36

13:25




60

.90

36

58

34

14:02

AVERAGE






















55

.87

35

60

32

14:20




50

.84

34

62

31

14:54




45

.81

33

64

30

15:18




40

.78

31

66

29

15:42

FAIR






















35

0.74

30

69

26

16:15




30

0.72

28

71

25

16:55




25

0.67

27

73

22

17:20




20

0.63

25

77

20

17:58

POOR




15

0.59

24

81

19

18:48




10

0.57

22

84

15

19:48




5

0.48

17

91

11

21:33




1

0.37

12

143

2

28:00